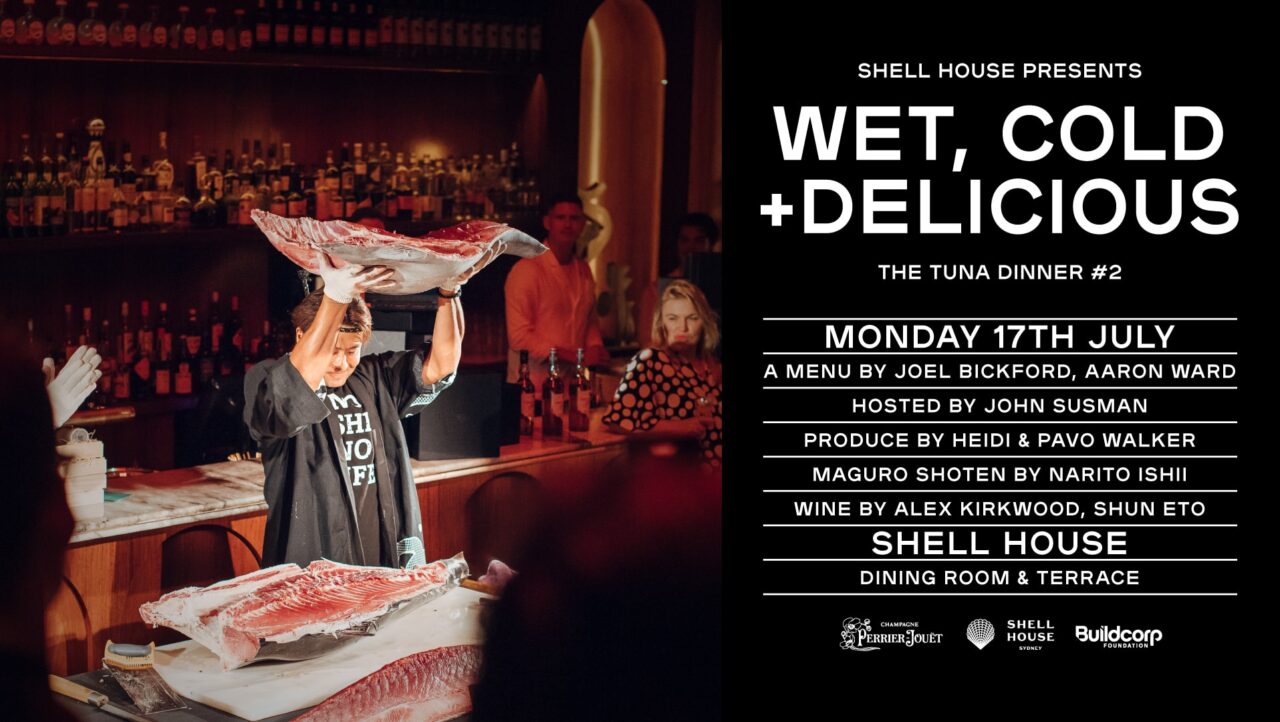 WET, COLD + DELICIOUS: THE TUNA DINNER #2
On Sale Now
We are delighted to once again welcome our hosts, John Susman and Narito Ishii as very special guests to Shell House for our second edition of Wet, Cold + Delicious– 'A deep dive into Tuna'. Culinary Director, Joel Bickford and Head Chef, Aaron Ward have created an extra special 5-course menu together with a range of matching wines and drinks by Alex Kirkwood and Shun Eto.
Your experience begins in the Clocktower Bar with a glass of Perrier-Jouët on arrival before a visual and sensory feast courtesy of produce by Pavo & Heidi Walker from Walker Seafoods –  the best in class of the East Coast tuna fleet. On display will be a giant Bluefin Tuna suspended under lights before being lowered onto a marble bench and expertly broken down by Narito.
Narito will then host a Maguro Shoten (a traditional Tsukiji fish market-style auction) to raise money for The Buildcorp Foundation. Proceeds of the auction will be donated to tackle the spectrum of our mental health crisis, a cause that is close to our hearts given how Covid has affected our industry and the people within it.
All the while, John and Narito will be sharing their wisdom when it comes to the sustainability of local and imported Tuna. All auctioned portions will be cryovaced and boxed on ice with a bottle of our own house-made soy sauce wax dipped and stamped for your enjoyment.
MONDAY 17TH JULY, 6.30PM
SHELL HOUSE DINING ROOM
$295 FOR 5-COURSES & $395 WITH PAIRED WINE